When it comes to cleaning and taking care of your awning, it may seem like it's a daunting, GIANT, task. But, with the right knowledge, tips, and advice, it's not that bad. In fact, if you properly clean and care for your shade structure, you can save yourself on costly repairs down the road.
If you don't care for your awning and clean it, things like tears, rips, mold, and sun damage can take a toll and suddenly, you're buying a brand-new awning. So, what can you do to keep your shade structure in tip-top shape, so it lasts the life of its construction? Here's how to care for your awning:
Inspection: Every couple of weeks or once a month, go outside and inspect your awning. Look at the frame, the fabric, and the seams; make sure there are no tears, dents or rust in the frame, or mold in the textile. Look for branches or other objects that could potentially damage your awning and remove them.
Clean: You might think, why should I do this if the awning is outside, it's going to get dirty anyway? Well, the fact is, awnings that are cleaned regularly and taken care of, last longer. C
leaning off dirt and debris and using a mild-soap to wash it down, can make the fabric last longer and the frame stay strong.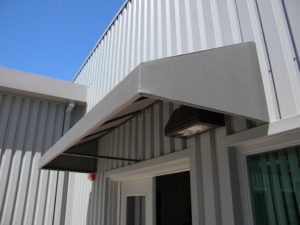 If you're going to clean your awning, here's what we suggest:
Brush off Dirt and Debris: Make sure to clear away any loose dirt or debris like rocks and branches.
Spray Down: Using your hose, wash your awning down.
Mild-Soap & Water: Use a mild-soap like dishwashing soap and cool or lukewarm water. Don't use detergent! Don't use bleach! Make a solution that isn't thick, but nice and loose so that you don't end up with a film of soap on your awning.
Brushes: Use a soft bristled brush if you're going to scrub down the fabric. (Sometimes, there are stains that could lead to damage; stains can decay the fabric so scrubbing your shade structure might be needed). Never use a scouring pad or other hard bristled brush.
Rinse: Once you've scrubbed and washed your awning with the mild-soap and water solution, rinse it down with fresh water.
Air Dry: If you have a retractable or slide-on-wire awning, let it thoroughly air dry
Now that you know how to clean and care for your awning, let us know if we can help you with your next shade structure project. And remember, if you're awning is damaged, you can always replace the fabric or the frame. For more information about Made in the Shade Awnings, contact us today at (562) 355-2252 or visit us at www.madeintheshadeawnings.com. You can also reach us by email at awningsmsa@yahoo.com.